As a general rule: the smaller the camper trailer, the better the camping trip. The less there is to lug around, the less pressure there is on your vehicle. Smaller trailers are also more maneuverable. If you're interested in off-road travel, then a smaller camper trailer will be your best, most practical bet. For those who can't compress everything to a 7×5- or 8×5-foot box trailer, there have certainly been technological advancements to lighten the loads of larger trailers. If possible, though, why not stick with the traditional method of going smaller? Less metal likely makes for less weight all-round.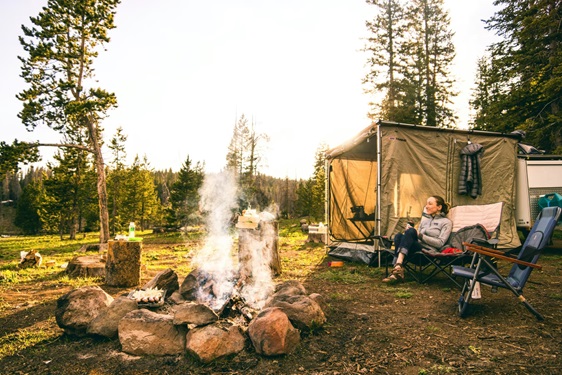 When we say 'traditional method', we're speaking to camper trailer origins. Back when camper trailers were gaining momentum on the market, trailer builders would whack a canvas tent atop excess trailers. They found this increased sales, and actually turned that excess stock into popular, fast-selling products. Why were they so popular? Well, some people have theorised that at 7×5 or 8×5 feet, these trailers perfectly accommodated a queen-sized mattress (6.6×5 feet). This created a niche in the market for people who love to sleep in comfort—or for travelling couples!
Smaller camper trailers aren't for everyone. They're designed for campers who enjoy 'roughing it' in nature and could live out the back of their vehicle. Campers of this type don't typically view their camper trailer as a provider of comfort. Rather, it's a storage solution, able to hold the extra accessories that a car just can't contain. We're talking surfboards, bikes, and extra toys for the kids. If you're camping as a large family, camper trails will likely act as a second boot.
If you want to hit the road with a compact storage solution in tow (literally), or if you're keen to explore the remotest of remote four-wheel-drive tracks, smaller camper trailers are the answer! Here are six of the best models on the market.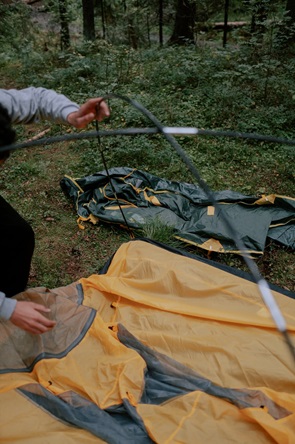 With these camper trailers, you'll have the lightest camping experience imaginable, second only to bringing just a tent.
Marlin Cruiser
If we're discussing the best compact camper trailers on the market, why not start with the smallest of them all? The Marlin Cruiser is as simple and compact as it gets. It weighs in at only 280kg. It's also the easiest on the bank balance, selling for as low as $3,990—a bargain, as far as camper trailers are concerned.
The Marlin Cruiser is an Australian-made trailer equipped with Oztrail's smallest variety of soft-floor tents. Due to its simple construction, this twofold contraption is also the easiest to set up. We recommend this trailer if you have a tighter budget, crave a simple set-up, or are content with the bare necessities.
Pod Allroada RT Camper
Let's bring things up a tier with the Pod Allroada RT Camper. Starting at $16,960, this all-plastic camper trailer is popular among specific crowds. It features an expanding root-top so that you can be sheltered whilst also keeping things light and breezy. So, how does this trailer earn almost $14,000 extra on its base price? It's taller, more cavernous—and it features a kitchenette. For active travellers, there are heaps of attachments available for the Pod Allroada RT Camper, which provide further storage for your gadgets and gear.
Cub Weekender
In terms of cost, the Cub Weekender falls into the midrange. This camper trailer will set you back $17,250 minimum. Weighing in at 566kg, the Cub Weekender is the lightest of Cub Campers' range. Attach it to a medium-sized SUV or small car and she'll be right to go!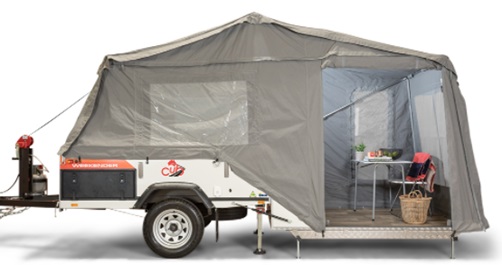 The Cub Weekender. Image: Cub Campers
The Cub Weekender is as easy to set up as it is to maneuver. It comes loaded with a pull-out kitchen and pantry and is ideal for a short, two-person getaway.
Signature Deluxe II
The Signature Deluxe II starts from $17,990 and is, in essence, a storage solution comprising many compartments. It features a roof-top tent and awning, foldable doors that double as benches (when folded), a kitchen, and storage space for days. It can easily hold your camping gear, and could fit a kayak comfortably! If you love adventurous camping, this could be the camper trailer for you.
Jayco Swift
Who here is camping with a small, young family? Starting from $18,690, the Jayco Swift may just be for you. If you choose the on-road version, it will be light and easily attachable to a standard sedan. If you choose the off-road variant, enjoy its high endurance and independent coil suspension.
Brüder EXP-4
Don't brood if you can't afford the Brüder EXP-4, which costs about as much as a small house deposit at $59,000. As the old saying goes, you get what you pay for: the Brüder EXP-4 is fully automated, has amazing suspension travel, suspension that self-levels, and bunk options for children. In a nutshell: this camper trailer is super high-tech and a marvellous investment for avid campers. Do you have the extra dough to spare?