When one thinks of the United Arab Emirates, the first things that likely come to mind are deserts and gigantic, futuristic skyscrapers, perhaps also luxury shopping and endless sandy beaches. Trees and green nature are probably not what immediately springs to mind, let alone an exotic mangrove forest. However, on the coast of Abu Dhabi, you can find one – and you can even explore it on dry land.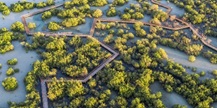 A Mangrove Forest in Abu Dhabi?
Abu Dhabi, the capital of the eponymous emirate and the United Arab Emirates, is situated on an island in the Persian Gulf, separated from the mainland. Surrounding the approximately 70-square-kilometer core island are additional, partly man-made islands. Tides determine the water levels in the coastal region, with some parts of the islands being submerged during high tide.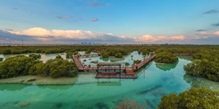 While this doesn't result in a complete "flooding," the water is typically only knee-deep, reaching shoulder height in certain areas. In the floodplain of Jubail Island, a natural mangrove forest has grown, similar to those found in South America.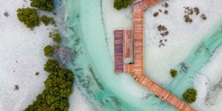 What Makes it Special?
One cannot overlook the uniqueness of this forest in Abu Dhabi, as mangrove forests are typically found only along tropical coastlines. Mangroves constitute a distinct ecosystem, with the salt-tolerant mangrove trees themselves being exceptionally remarkable. Their habitat is subject to tidal fluctuations, alternating between being flooded and dry. These plants only thrive when the water temperature exceeds 20°C, and they must cope with saltwater to meet their water requirements, which is ordinarily harmful to most plants.
However, mangrove trees and shrubs have developed various filtration systems to separate salt from water or eliminate it through their leaves. Additionally, their root systems differ from most trees, with the majority of their roots being above ground—especially during low tide, while during high tide, the roots are immersed in seawater. Despite their efforts, trees in a mangrove forest rarely grow taller than five meters.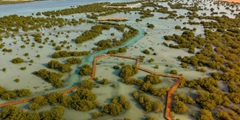 Why Should I Go There?
Approximately 60,000 animals, including fish, birds, crabs, and flamingos, inhabit the mangrove forest on Jubail Island. The Jubail Mangrove Park was opened here in early 2020, featuring wooden boardwalks that stretch for several kilometers across the approximately one-square-kilometer area. The landscape is impressive at any time, but the most exciting time to visit is during high tide. In the crystal-clear waters, you'll find a multitude of marine creatures.
During high tide, the flamingos and many other waterfowl leave their perches in the trees to search for food – and you'll be right in the midst of it, experiencing the exotic animals up close. During high tide, only the green crowns of many of the trees and bushes are visible. At low tide, the area almost completely dries up, and the twisted roots of the mangrove trees are exposed, creating narrow channels through the sandy plain, reminiscent of tidal flats.
By the way, you can find out the timing of low and high tides by consulting a tide calendar and plan your visit accordingly.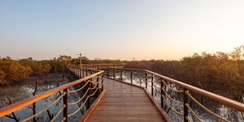 What Can I Experience There?
While leisurely strolling along the "Mangrove Walk," you'll learn a lot about the unique ecosystem of the mangrove forest. The boardwalks take you on three routes crisscrossing the wetland. At six stations, informative panels explain in simple terms the special significance of mangroves for the region, such as how natural floodplains protect the islands and the mainland from erosion. Additionally, park rangers are present to answer your questions knowledgeably. Various viewpoints along the way are set up to draw attention to the details of this fascinating landscape, adding variety to your walk and preventing boredom, even for children.
The well-narrated exhibition in the visitor center is also worth a visit, providing you with plenty of background knowledge in an engaging and informative manner. There's even a café in the visitor center where you can refuel before or after exploring the park.
How Do I Get There?
The Jubail Mangrove Park is located on Jubail Island, halfway between Yas Island and Saadiyat Island. Bridges connect these islands, and there is a parking lot right at the entrance to the mangrove park. The park is open from 7:00 AM to 9:00 PM, and admission is free. However, please note that the mangrove park remains closed during the hot summer months. You can find more information here.
Special Tip: On a guided kayak tour, you can experience the fascinating water landscape from a duck-eye view and learn interesting facts about the mangrove forest habitat from the guides. Another unique experience offered is spending a night in the park. During this adventure, you stay in glamping pods, dome-shaped tents with panoramic roofs, set up on wooden platforms.
As you can see, the Jubail Mangrove Park is truly a hidden gem in Abu Dhabi. It offers a unique experience for nature lovers and adventure seekers alike. If you're planning a trip to Abu Dhabi, I highly recommend adding this park to your itinerary. And speaking of Abu Dhabi, be sure to check out this story  on the 10 best things to do in this amazing city.