Being a home to many international businesses and non-profits, among which are the World Health Organization, the United Nations, and the International Committee of the Red Cross, Geneva is indeed a global city. The canton is enclosed on three sides by French neighbors, which is why its principal language is French.
However, in some form, almost all nationalities are represented in Geneva and half of its approximately 200,000 citizens are expats. As it is the city of diversity, its cuisine is pretty much alike. French cuisine is highly influential, as are Italian, German and Austrian due to their closeness. So don't be surprised if you can hear people argue over the (non)existence of traditional Swiss cuisine.
However, there are some dishes and specialities that are typical for Switzerland. You have probably heard of cheese fondue. It is a melted cheese served in a traditional ceramic fondue pot called 'caquelon' with bread cubes which are picked up on the fork and swivelled in the melted cheese. Chocolate is another thing which made Switzerland famous worldwide. It came to Europe in the course of the 16th century and by the 17th century, it became known and was produced in Switzerland as well. Swiss chocolate started to gain a reputation abroad in the second half of the 19th century. Milk chocolate, fondant chocolate and praline chocolate all were invented in this country.
Even though there are not many typical Swiss dishes, it won't stop you from enjoying delicious food while in Geneva. There are plenty of fine restaurants around the city where you can indulge in various delicacies. Plus, there is pristine scenery around every corner and eating outside is a unique experience.
We chose for you – 10 best places to wine and dine in Geneva. Enjoy this article as you are going to enjoy your meals.
Café du Solei
When it comes to fondue, this is the right place to go for it. The age of the restaurant is estimated at 400 years. The atmosphere in this authentic Genevan bistro is refreshing, warm and unpretentious, the staffs are charming and the service is high quality. The food is delicious and their fondue carries the title of the best in Geneva.
Since everything is expensive in Geneva, the prices in Café du Solei are reasonable and well justified given the quality of the food and service. The place is quite popular both with locals and tourists, so making a reservation can be a good idea. The restaurant is a bit away from the city, so hiring a limo service to drop you off is an excellent way to enjoy the perfect dinner out. Take a seat out at the terrace, relax in the shade of its lime tree with a sip of wine and enjoy its poetic scenery.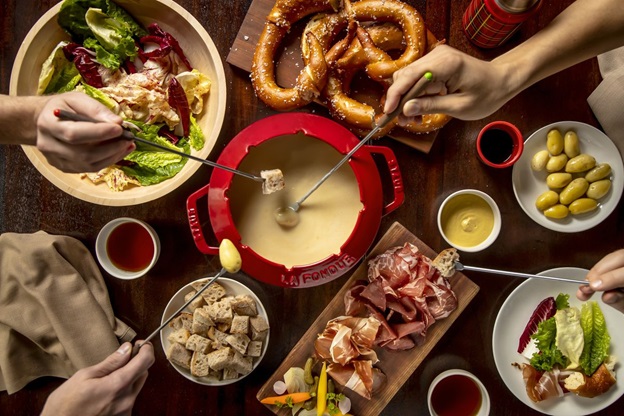 Inda-Bar
There are plenty of nice Indian restaurants in downtown Geneva, but there is a special one located in the centre of the Eaux-Vives. The Inda-Bar is everything but traditional Indian restaurant. Here you won't find usual madras, vindaloo or other curries. You won't even find rice. But what you will find are super fresh dishes bursting with tons of flavours. Chicken, lamb or vegetarian, everything is spiced lavishly and beautifully plated. The Inda-Bar is a great fusion of authentic Indian tastes but quite modern and innovative at the same time. Cheese naan is a must try! There is also an interesting cocktail mix on the menu which should not be missed. Although there is no Indian touch in the decoration, it offers a really nice, very alternative and quite upscale classy interior.
The overall ambience and music are pleasant as well. In Inda-Bar, a great time is promised.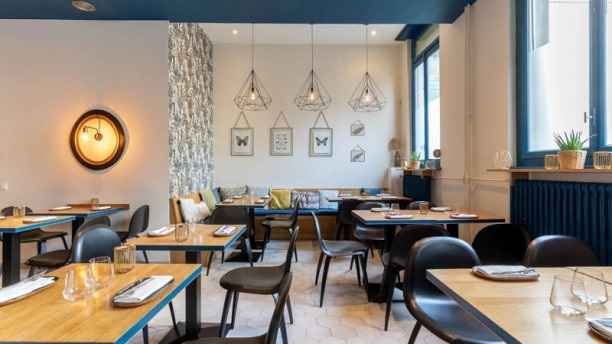 Eastwest Hotel
Located in the heart of Geneva close to the lake, the Eastwest Hotel represents a paradise of discreet luxury. The name itself indicates a subtle blend of East and West of its yet contemporary interior design. It is an eclectic mix of artwork and decorative pieces which might surprise, but also inspire and engage its visitors.
From the moment you enter the lobby of this unique luxury hotel, you will feel the warm and welcoming atmosphere. A secluded patio with its wall of flowing water framed by lush greenery adds to the feeling of luxury. The Eastwest Hotel is a proud member of Small Luxury Hotels of the World. The atmosphere in the restaurant within the Hotel is sophisticated yet relaxed. Its contemporary cuisine is fresh and delicious. The dishes are inspired by the world and reflect the travelling spirit of the Hotel.
The restaurant and a lounge bar make an ideal setting which suits any occasion, from a business lunch, over after work drinks and dinner with colleagues, to weekend brunch with family and friends. Unless you are a guest of the Hotel, make sure to arrive at the restaurant in an equal style – in a classy and elegant limousine.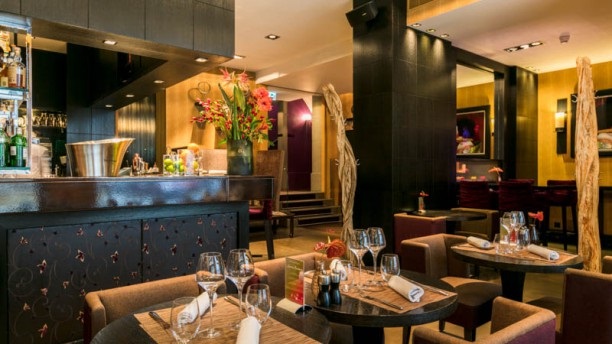 Auberge du Lion d'Or
This restaurant features inside and outside seating in a quiet corner of Cologny. On the ground floor, there is a beautiful Restaurant with large bay windows. During summer, the terrace provides some glorious, possibly the best view over Geneva Lake. Unlike in most other restaurants in Geneva, the seating in Auberge du Lion d'Or is well spaced and you can actually have a private conversation without overhearing from the neighbouring tables. It also offers an upstairs Lounge bar with a fireplace and plush armchairs with an even better view of the Lake, the city and Jura mountains. The atmosphere of the restaurant is refined and chic.
The service is discrete, yet attentive, and the food is exquisite. Its creators are two chefs, one Irish and the other French. Their cuisine is inspired by tastes and flavours from all around the world. The restaurant's menu will satisfy every gourmet's taste buds at very affordable prices. By experimenting with a palette of tastes and colours, the two food artists created a series of culinary masterpieces. In the end, restaurants cannot receive a Michelin star just like that.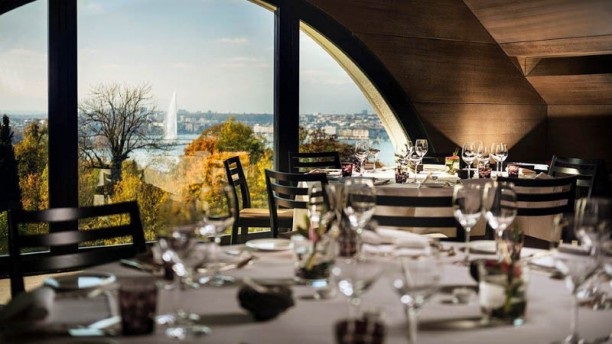 Izumi
The rooftop of the Four Seasons Hotel des Bergues offers a quite unique experience in Geneva. A magnificent 360 degree of its Izumi restaurant provides the most beautiful view of the old town, the lake, the harbour and nearby Mont Blanc. The restaurant is made of a couple of tables scattered between the mezzanine and the living room-library animated by a modern fireplace and uniting teak and leather into one sleek urban atmosphere.
During autumn months, the best seating is next to the chimney. Izumi serves Japanese-fusion concept, with Nikkei cuisine starring, inspired by natural elements such as water, air, light and fire. Quality of the Nikkei plates and the service are excellent. Dine on sashimi or sushi pate with truffles, the King Crab, or the maki rolls, freshly made and with the right balance of rice and fillings. Even if you are not a fan of sushi and seafood, there are still plenty of delicious options to choose from. The wine list is quite furnished too. The Izumi is another Genevan restaurant which has earned a Michelin plate.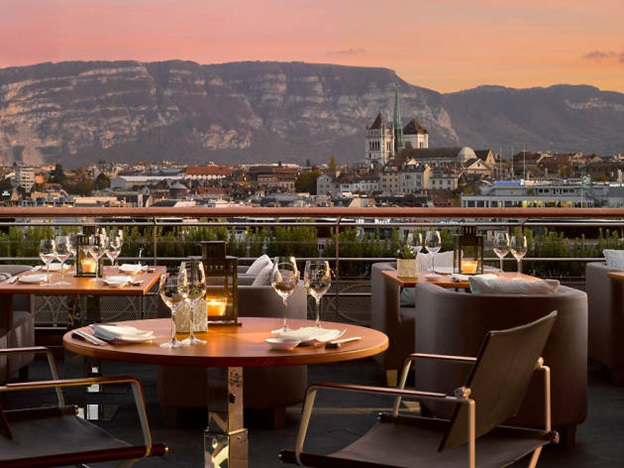 Chez Philippe
This is the heaven for all "carnivores". Located in the Passage des Lions, this place exudes New York in the heart of Geneva. On the glass façade side, you are welcomed by a terrace so you can enjoy in the hearty meat fest on the Rhone River while feeling the presence of the lake so up close. The restaurant has two levels and two diverse ambiences. The bar on the ground floor is ideal for a burger or a quick Caesar's salad while on your break. In its authentic grill house, raw materials send a soft vibe and an embracing warmth. Upstairs is more for private moments or long business lunches. Rough brick and wood accompanied with fine table linen make the atmosphere cosy and harmonious. Chez Philippe is a great place for group gatherings. The staff is trendy dressed in black, very attentive and efficient. Dishes are tasty and delicious, beautifully presented. The wine list is very rich – take a look at their wine racks and pick out the vintage you want.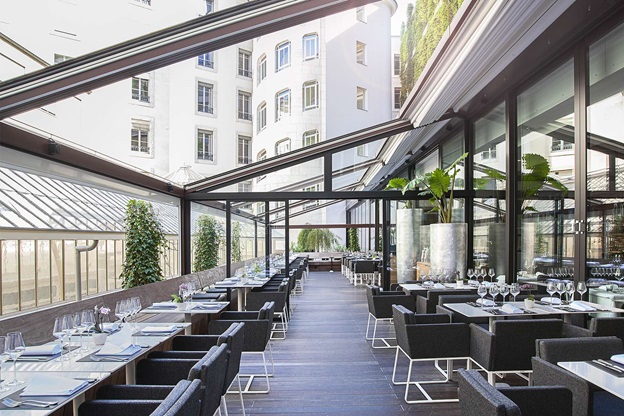 Café Papon
Together with Café du Soleil, Café Papon belongs to some of the oldest restaurants in Geneva. Open since 1808 and strategically situated in the heart of the Old Town, it serves local, seasonal dishes. The restaurant is located beside the Banc de la Treille and close to the Town Hall. Though there is plenty of seating inside in the fancy yet comfortable ambience, if there is room, choose to seat outside to enjoy your meal while admiring the beautiful view of the Bastions Park and Place Neuve. The food here is equally delicious. We recommend quail pie with crisp and flakey pastry and rich filling, and pistachio religieuse for a dessert. The service is also on point. Let's say you only have one day in Geneva. Take a tour around St. Peter's Cathedral, the Reform Museum, the Museum of Art and History, the Tavel House, the Victoria Hall and the Grand Theater and then settle in Café Papon for a beer that comes along with a large bowl full of nuts and other salty treats. That would make an excellent and unforgettable experience.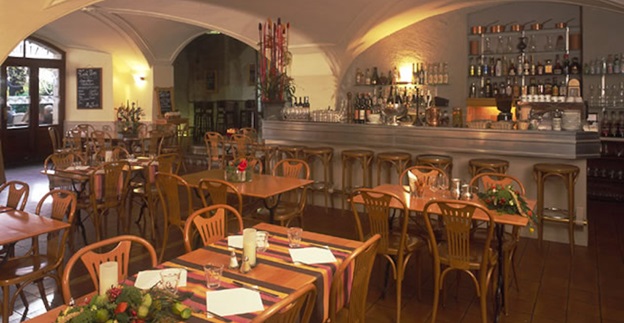 Windows Restaurant
Another restaurant with a well-deserved Michelin plate. The impeccable ambience, exceptional service and divine cuisine are complemented by an extensive wine list curated by the talented sommelier. Windows restaurant is ideal for intimate gatherings with family and friends, as well as for large celebratory banquets. A private wing of the restaurant, symbolically named L'Observatoire, is available for private and exclusive use. Breakfast, lunch or dinner – all are prepared with care and passion, using the finest seasonal ingredients and interesting decorations. The menu features many of the owner Ms Tollman's signature dishes – fruits of perennial personal experiences in the kitchen and travels around the globe. The venue is true to its name. It boasts large wooden floor-to-ceiling windows and glass door, framing enchanting, panoramic views of the Lake Geneva, Mont Blanc and the most famous Genevan landmark, Jet d'Eau.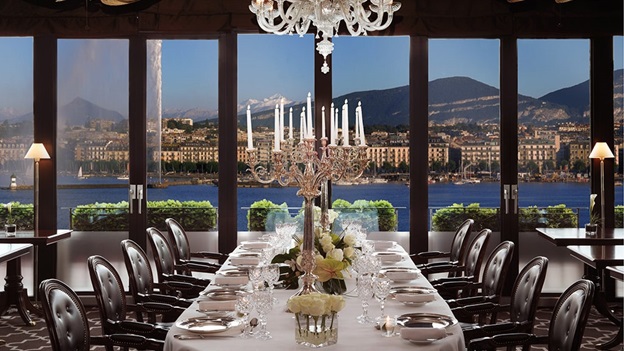 La Suisse Steam paddle boat
If you find yourself in Geneva from mid-June to mid-September, don't miss cruise boats on Lac Leman. La Suisse is one of the six Belle Epoque paddle boats dating from the early 20th century and offering nostalgia and comfort. Cruise excursions depart from various ports but Geneva, Nyon, Yvoire, Lausanne, Vevey, and Montreux are very popular starting points. La Suisse boat cruises three times a day from Lausanne to St. Gingolph and on to Chateau de Chillon before returning to Lausanne via the Lavaux. The full cruise lasts for three hours. If you can afford it, buy the 1st class ticket. In addition to pleasure cruise, food is available with special lunch and dinner. To live the full experience, order aperitif on the deck and enjoy the view of the sun rays shimmering on the calm Lake. In the "Salon Belle Epoque", decorated with a Titanic twist, indulge in a carved out loaf of bread filled with melted cheese and sauce with cuts of meats and cheese to dip. To arrive at the Lausanne port right on time to catch the boat's departure, rent a limousine in Geneva. You will remember this day for the rest of your life.

Le Baroque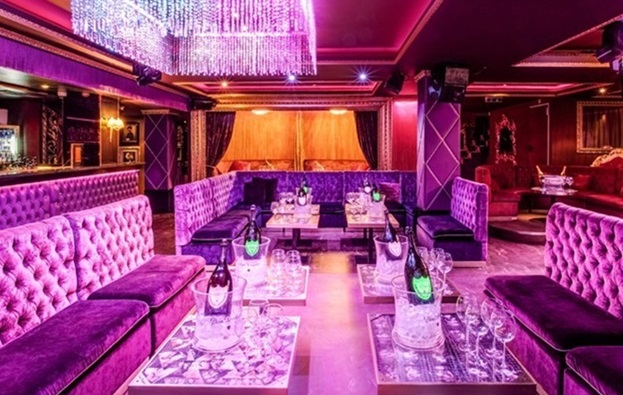 Another restaurant placed in Passage des Lions. La Baroque is an exclusive place, spacious and trendy. It sports a winter garden, a festive floor and another more peaceful floor covered with a magnificent glass roof. A subtle blend of noble woods, grey marble and mirrors, exhibits a sublime perspective contrasting with an intimate and subdued atmosphere during the day. In the kitchen, young Chef Romain Marie orchestrates an explosion of flavours. Combination of Mediterranean, Japanese and Peruvian cuisines is imagined to seduce your palate. The food is delicious with a very nice presentation. Many young people choose it for night outs as well as for birthday party celebrations as it turns into a night club at late night hours.
Music is great and it starts to get upbeat at around 10 pm. If your birthday is approaching, don't hesitate to reserve the table in advance as the place is quite popular and crowded. Hire a limo service to take you on a trip around Geneva, enjoy the ride and cocktails with your friends, and then stop at La Baroque for a fusion of flavours. It might be pricy, but birthdays are a perfect occasion to spoil yourself and celebrate life!